10. Bad Homburger Poesie & Literaturfestival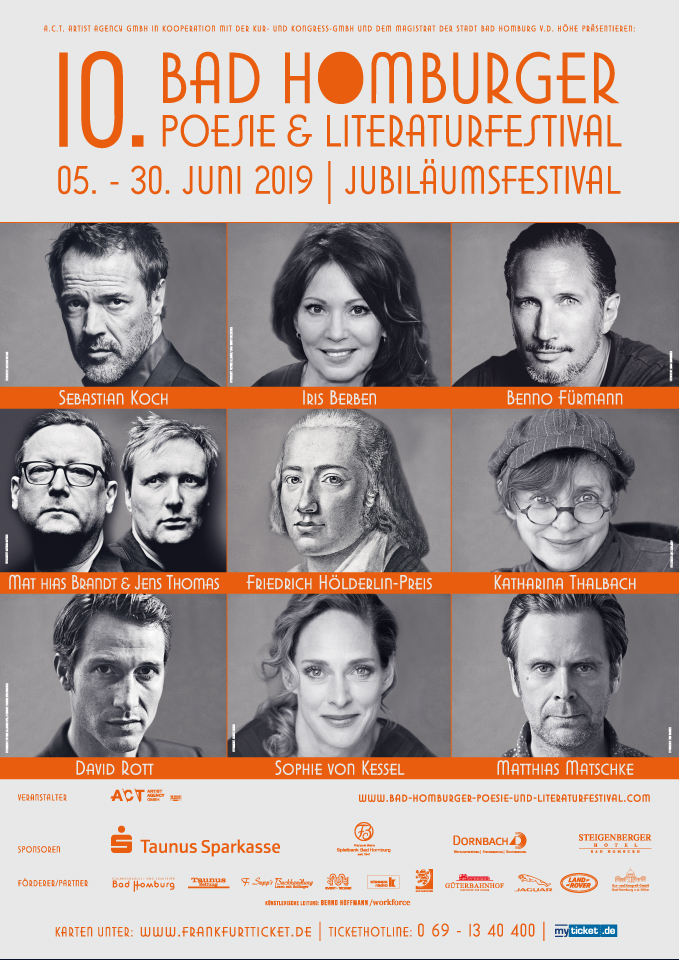 Reading is cinema in mind and a journey into foreign worlds – under this motto the promoter A.C.T./ Hermjo Klein together with the initiator and artistic director Bernd Hoffmann in cooperation with Kur- & Kongress GmbH as well as the magistrate of the city of Bad Homburg has launched the Bad Homburg Poetry & Literature Festival in 2010.
The readings with great stars/ personalities of the German film and TV world, the focus on "world literature", profoundly chosen by the artistic director and festival initiator Bernd Hoffmann and often imaginatively provided by him with unusual music accompaniments as well as picture & light productions, have meanwhile reached and enthused an audience of several 10,000 spectators – the right moment to celebrate the first important anniversary. For the friends and partners of the first time, it did indeed mean a milestone: who would have thought at the beginning of the series of events that, around the awarding of the prestigious Friedrich Hölderlin Prize, numerous reading weeks in many special places of the city would be successfully recorded each year?
The organizer would also like to thank the great audience in Bad Homburg and the partners/sponsors, to whom the spark of idealism and enthusiasm could jump so wonderfully!
All this was celebrated in 2019 with a diverse and colourful literature festival of a special kind, and yes, many public favourites of  the past 10 festival years have been with us.
The 10th Bad Homburger Poesie & LiteraturFestival had a formal "patron" for the first time: Sebastian Koch, who had been associated with the festival since its inception and who interrupted important movie shoots for his Bad Homburger readings by e.g. Schnitzler, Dostojewski, Thomas Mann, has been an important media advocate for the festival in its anniversary year 2019!
Contact person for the media:
A.C.T. Artist Agency GmbH
Herr Stefan Burger
Tel. 069-15046629
stefan.burger@act-artist.de
Art Director:
Bernd Hoffmann
Tel. 069-82367031
bernd.hoffmann@workforcemusic.de
Kur- und Kongreß-GmbH Bad Homburg
Stefanie Kürten
Tel. 06172-178-3152
s.kuerten@kuk.bad-homburg.de