11. Bad Homburger Poesie & Literaturfestival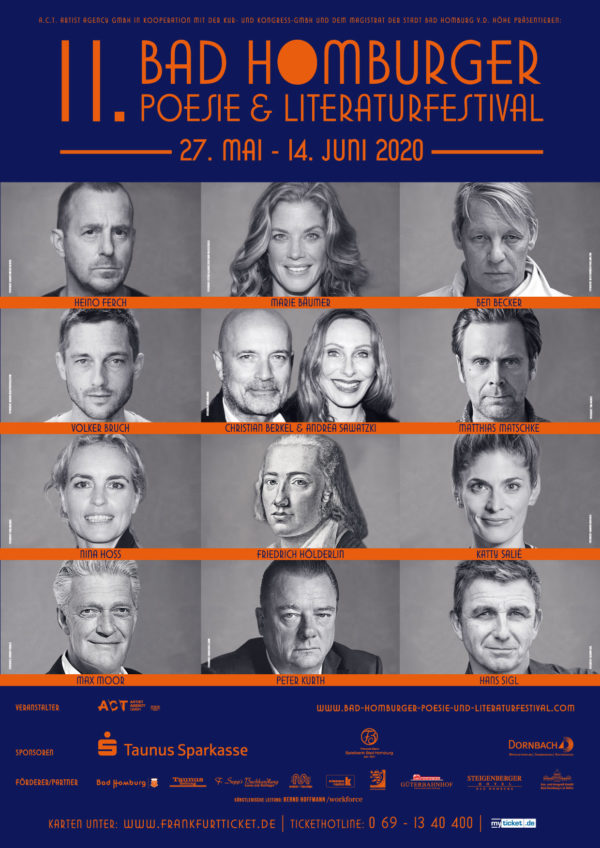 Dear Sirs, dear audience, dear friends,
partners and sponsors of the Bad Homburg Poetry & Literature Festival,
First of all, we would like to thank you for your patience and your loyalty in these difficult times! On May 4th, 2020 we had to cancel postpone our festival dates planned for 2020 due to the Corona Pandemic and the associated legal measures. We as organizers in the cultural and creative industries, are indeed experiencing an extremely difficult year and hope very much that the necessary lockdown won't permanently damage the foundations of our cultural landscape. Please stay with us, culture is "inherent to the system" and an irreplaceable compass of this society. After great challenges due to the large number of cancellations and relocations, we have now good news!
Here are the first catch-up dates for your information:
March 3rd, 2021 | Ben Becker "I, Judas" | Church of the Redeemer | 7.30 pm
March 9th, 2021 | Hans Sigl reads from T. Mann "Felix Krull" | Kurtheater/ 8 pm
March 12th, 2021 | Max Moor reads from G. Guareschi "Don Camillo and Peppone" | Church of Our Lady | 7.30 pm
March 13th, 2021 | Marie Bäumer reads from A. Chekhov "The Lady with the Little Dog" and others | Villa Wertheimber | 7.30 pm
March 20th, 2021 | Devid Striesow, Sophie von Kessel and Robert Stadlober read "Hölderlin – an artist life" | Erlöserkirche | 5 pm
Musical accompaniment: JSOrchestra Hochtaunus (cond. Lars Keitel)
Special event in cooperation with Hochtaunuskreis
March 21st, 2021 | Peter Kurth reads from H. Miller "The smile at the foot of the ladder" | Francois Blanc Casino, Great Hall | 12 am – Matinee
Further dates will follow, please take note of the corresponding announcements in the media Releases or on our festival homepage in the coming summer weeks.
The purchased tickets basically remain valid for the catch-up dates. This would also be the most convenient solution for you. If this solution proposal is not acceptable to you and you can't or don't want to take the replacement date, you can exchange the tickets for other events at the Bad Homburg Poetry & Literature Festival in 2021 until December 31st, 2020. Please do this by returning the previous tickets to those ticket provider where you bought your tickets. Any additional payments or disbursements that may be necessary for your new tickets will also be regulated there. If you also do not want to or cannot perceive the solution we offer, we will pay you the ticket price upon presentation of the original tickets. In this case, please contact the ticket provider from whom you purchased the ticket for processing. Of course, we will be happy to answer any further questions you may have.
Dear Sir or Madam, despite the difficult circumstances, we hope for your understanding and thank you very much if you keep the tickets and / or accept the above. Exchange solution to support the event and concert industry as well as the many associated and currently sustainably affected artists and solo professionals.
Keep yourself cheerful – and stay healthy!
Hermjo Klein
P.S: This year's Christmas special event with Michael Mendl (Marienkirche, December 12th, 2020, 6 pm) remains unchanged.
Contact person for the media:
A.C.T. Artist Agency GmbH
Herr Stefan Burger
Tel. 069-15046629
stefan.burger@act-artist.de
Art Director:
Bernd Hoffmann
Tel. 069-82367031
bernd.hoffmann@workforcemusic.de
Kur- und Kongreß-GmbH Bad Homburg
Stefanie Kürten
Tel. 06172-178-3152
s.kuerten@kuk.bad-homburg.de