11. Bad Homburger Poesie & LiteraturFestival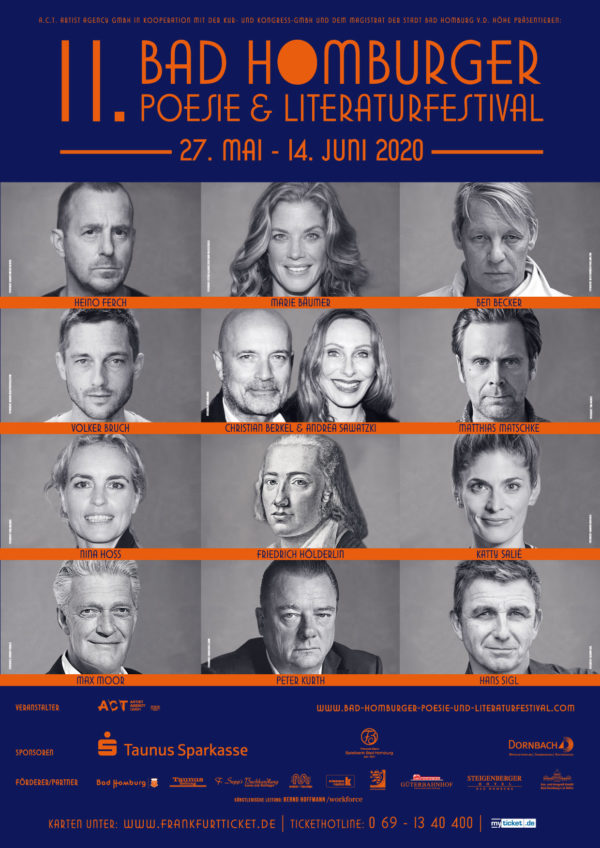 Dear Sirs, dear audience, dear friends,
partners and sponsors of the Bad Homburg Poetry & Literature Festival,
First of all, we would like to thank you again and from the bottom of our hearts for your patience, your loyalty and the many encouragements in these difficult times.
Unfortunately, the ongoing critical developments of the COVID-19 Pandemic force us to inform you that the events of the 11. Bad Homburg Poetry & Literature Festival 2020, which have already been postponed to March 2021, have to be postponed again. 
Here are the new and unchanged catch-up dates for your information:
October 5th, 2021 | Katty Salié reads from R. Willemsen "Who we were" | Festsaal Hotel Steigenberger | 7.30 pm
October 7th, 2021 | Max Moor reads from G. Guareschi "Don Camillo and Peppone" | St. Mary's Church | 7.30 pm
October 10th, 2021 | Peter Kurth reads from H. Miller "The Smile at the Foot of the Ladder" | Francois Blanc Casino, Great Hall | 12 am, noon-Matinee
October 12th, 2021 | Matthias Matschke reads from M. Shelley "Frankenstein" | Freight Station | 8 pm
October 17th, 2021 | Andrea Sawatzki and Christian Berkel read from J. M. LePrince de Beaumont "The Beauty and the Beast" | Kurtheater | 5 pm (= instead of open air in the inner courtyard of the Bad Homburg castle | Start 7.30 pm)
October 24th, 2021 | Marie Bäumer reads from A. Chekhov "The Lady with little Dog" and others | Villa Wertheimber | new time: 5 pm
November 4th, 2021 | Ben Becker "I, Judas" | Church of the Redeemer | 7.30 pm
December 4th, 2021 | Michael Mendl reads from T. Mann "Christmas with the Buddenbrooks" | St. Mary's Church | 6 pm
Further date changes are in progress. Please note the corresponding announcements in the media or on our festival homepage in the upcoming weeks.
Already purchased tickets remain valid or can be returned to the ticket offices where they were bought. Unfortunately, we have to cancel two events for important production-related reasons:
March 20th, 2021 | Devid Striesow, Sophie v. Kessel, Robert Stadlober read "Hölderlin- An Artist's Life" by Stefan Zweig | Musical accompaniment: JSO Orchestra (cond. Lars Keitel) | Church of the Redeemer
June 6th, 2021 | Heino Ferch reads from "Goya" by L. Feuchtwanger | Musical accompaniment: Rafael Cortez, flamenco guitar | Kurtheater 
Purchased tickets can be returned at the ticket offices where they were bought. Of course we are at your disposal for further questions.
Please remain with us, so far cheerfully – and above all: healthy!
Yours,
Hermjo Klein | A.C.T. Artist Agency GmbH | Organizer
Bernd Hoffmann | Workforce | Artistic Director
Contact person for the media:
A.C.T. Artist Agency GmbH
Herr Stefan Burger
Tel. 069-15046629
stefan.burger@act-artist.de
Art Director:
Bernd Hoffmann
Tel. 069-82367031
bernd.hoffmann@workforcemusic.de
Kur- und Kongreß-GmbH Bad Homburg
Stefanie Kürten
Tel. 06172-178-3152
s.kuerten@kuk.bad-homburg.de