11. Bad Homburger Poesie & Literaturfestival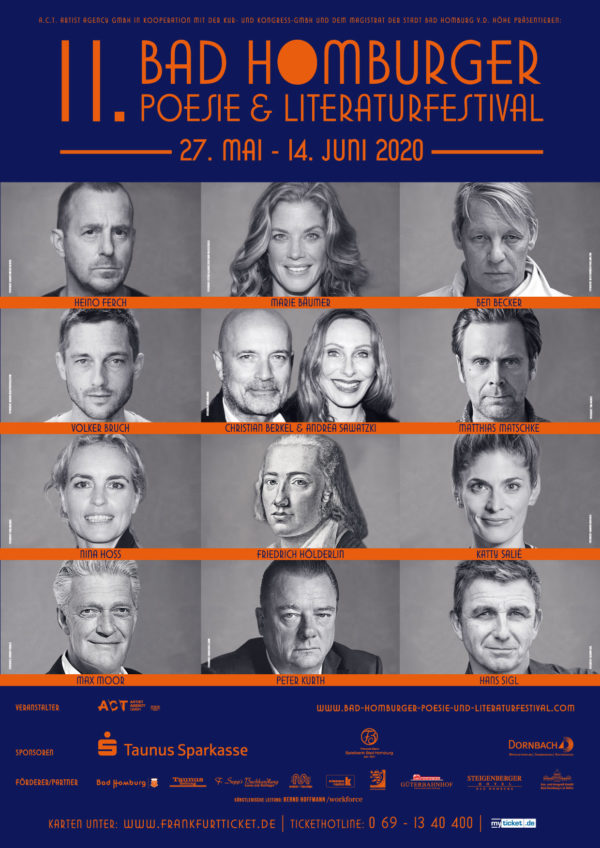 Dear Sirs, dear audience,
dear friends, partners and sponsors of the Bad Homburg Poetry & Literature Festival,
we, like many organizers, hoped to spare you and the participating artists, all of us, this news. However, the 11th Bad Homburg Poetry & Literature Festival 2020 is also affected by the effects of the corona pandemic and the unchanged orders of the Federal Government and the State of Hesse, which have been in effect since March 14th, 2020, not to hold any major events with more than 100 people up to and including August 31, 2020.
After a responsible examination and in close cooperation with the Bad Homburg City Council and the Kur- und Kongress GmbH of the City of Bad Homburg, we hereby announce the rescheduling of all festival events planned for the core period May 27 to June 14, 2020. We intend to make up for this from the beginning of 2021, are already working flat out on these new dates and will announce them as soon as possible in the media and on our festival homepage. This also applies to the special event "Ich, Judas" with Ben Becker, which was already cancelled on April 2, 2020 due to the Corona Pandemic.
The only exception: the planned special Christmas event on December 12th, 2020 with Michael Mendl as well as the advance booking remain unaffected.
Already purchased tickets remain valid.
We hope for your understanding and thank you very much for your patience. Stay cheerful – and above all healthy!
Culture must live on: thank you for your support in this important matter.
Yours,
Hermjo Klein/ A.C.T. Artist Agency GmbH (organizer)
Bernd Hoffmann/ Workforce (artistic direction)
Contact person for the media:
A.C.T. Artist Agency GmbH
Herr Stefan Burger
Tel. 069-15046629
stefan.burger@act-artist.de
Art Director:
Bernd Hoffmann
Tel. 069-82367031
bernd.hoffmann@workforcemusic.de
Kur- und Kongreß-GmbH Bad Homburg
Stefanie Kürten
Tel. 06172-178-3152
s.kuerten@kuk.bad-homburg.de