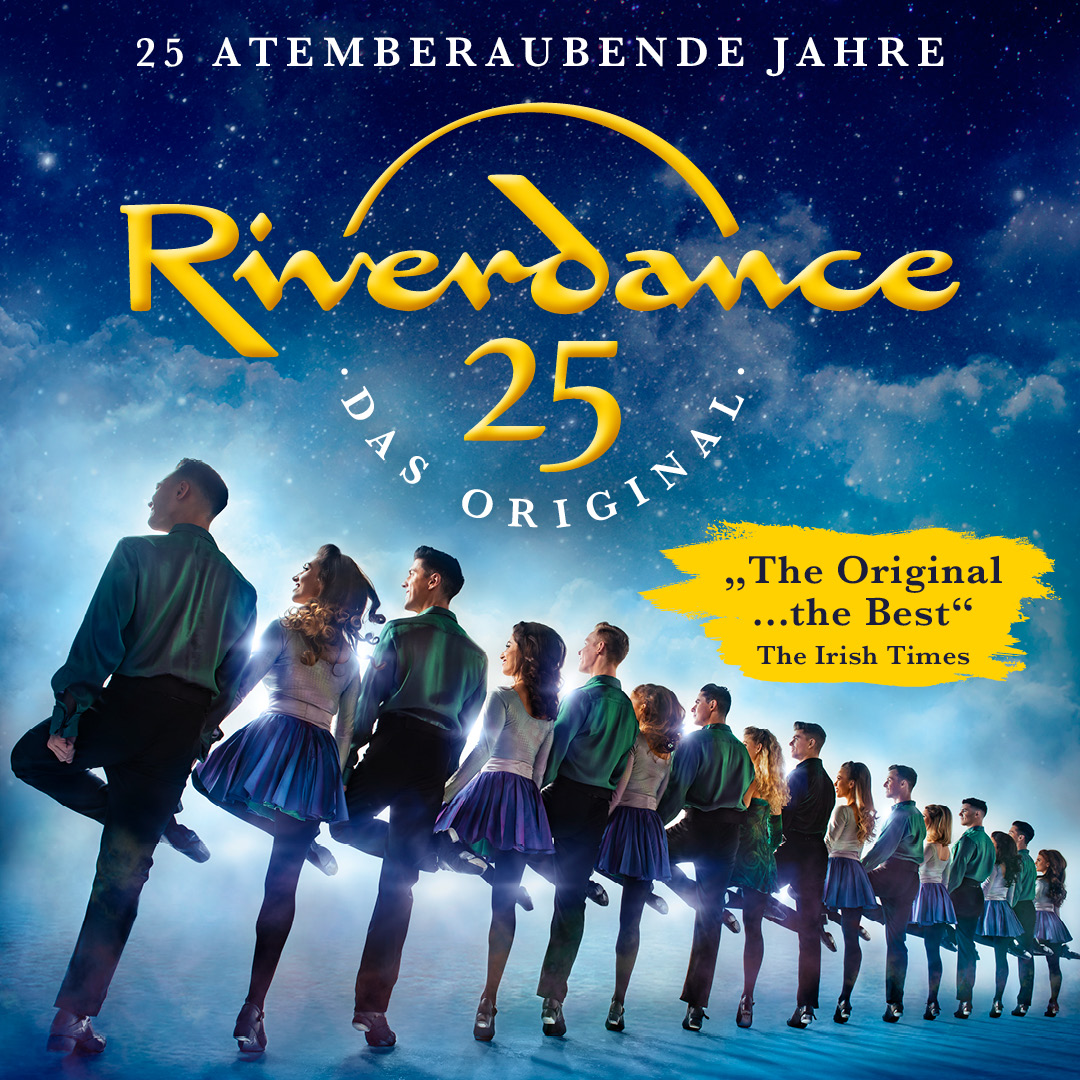 The most successful dance show in the world is back!
25 years of Riverdance: The original comes in 2023 on a big anniversary tour!
The myth began a quarter of a century ago: Since the shoes of the Riverdance dancers first clicked across the stage in Dublin in 1995, over 27.5 million viewers have cheered on the most successful dance show to date. The enthusiasm for the breathtaking performance of Irish tap dancing continues unabated after 25 years. From February to March 2023, the big anniversary show comes to Germany and Austria. In a total of 29 cities, fans can look forward to a revamped and modernized version of Riverdance: Innovative and spectacular lighting technology, elaborate LED walls, and new stage and costume designs will ensure a unique dance spectacle. If you can't sit still for Irish tap dancing, you have to see the original – and that is still Riverdance!
Tickets for the tour presented by A.C.T. and DEAG Concerts are available at www.myticket.de and by calling 01806 – 777 111 (0.20EUR/call from a German landline / max. 0.60EUR/call from a German mobile network).
The show movingly tells of the multi-faceted face of the Irish people: emigration, farewell, departure and homecoming. Riverdance also shows the interaction and clash of different cultures. With consummate body control and at breakneck speed, the dancers present a spectacular performance of Irish passion and international dance styles such as flamenco, breakdance, and Russian folklore. The live traditional music, for whose composition by Bill Whelan Riverdance even received a Grammy in 1997, is characterized by depth, longing, but also hope, and confidence. For the 25th anniversary show, Bill Whelan has rearranged the original soundtrack and brought the familiar, mesmerizing Riverdance music into the present day. The dancers bring the history and culture of Ireland to life with synchronized dance perfection and gorgeous costumes! The press about Riverdance: "Breathtaking perfection" (Die Welt), "Greatest dance spectacle of all time. Respect!" (Süddeutsche Zeitung).
The 25th-anniversary show catapults Riverdance into the 21st century and lets the audience feel the elemental power of its music and choreography up close. Fun Fact: The cast of the upcoming tour consists partly of dancers and musicians who were not even born when the show was first performed in 1995.